Dental Implants
It's all about looking and feeling better, as well as an amazing surge of confidence that may bring unexpected benefits to your life.
Dental implants are here and have become a solution for people looking for something to fill the empty gaps in your smile with something besides dentures. In fact, they may be used exclusively or in combination with dentures, and Leone & Wenning Cosmetic & General Dentistry offers its patients the gold standard when it comes to dental implants.
There has been a surge in demand for dental implants in recent years, and that leads to many questions about this surgical and restorative procedure. Implants have become a healthy alternative with an amazing success rate.
In a nutshell, you'll look and feel better. There is a noticeable difference in the facial appearance when dentures are in or out. Natural teeth provide a root structure and without that strengthening network, the jawbone tends to shrink and one's face looks older. Although dentures can fill out the lower part of the face, they can't keep the jawbone from shrinking. Ultimately, dentures may have to replaced because of that factor. Implants don't.
Another advantage is the self-confidence that comes from not having to worry about missing or slipping teeth when speaking or eating. This is an invaluable confidence builder in social and business settings. People with dental implants may even find themselves doing something they haven't done for some time— smile.
It is true that looks aren't everything, but are implants actually healthy? Implanted teeth do not impose upon or reduce your natural teeth. In fact, they even stabilize them, and that's a plus for overall oral health and improved oral hygiene.
Dental implants are a part of you and that is a convenience that doesn't come from unstable dentures that have to put in the mouth and taken out again. Movement can irritate the gums, but stability means comfort as well as not having to deal with messy adhesives and broken dentures. You don't have to get up from your easy chair and round up your dentures to answer the door for an unexpected visitor. You don't have to worry about those moments of private intimacy or public exposures that may be ruined by your dentures.
Who is a candidate for dental implants? The answer is just about anyone with missing teeth, whether from accident, disease or tooth decay. Sufficient available bone is a factor in a secure implant, and that can be resolved with an appointment for an exam and consultation.
For years, people with missing permanent teeth had to use fixed bridges or dentures or partial dentures, to restore their smile. We provide full restoration from one tooth to a full mouth reconstruction.
Single Dental Implant
To replace a single tooth, a dental implant can be placed in the jaw bone and a crown can be fastened to the implant.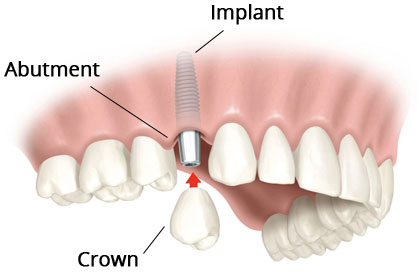 Implant Supported Bridge
An implant supported bridge is used when there are numerous teeth missing in one area. For example, if there are 3 missing teeth, 2 dental implants can be placed in the jawbone and a bridge consisting of three crowns can be produced and secured to the implants.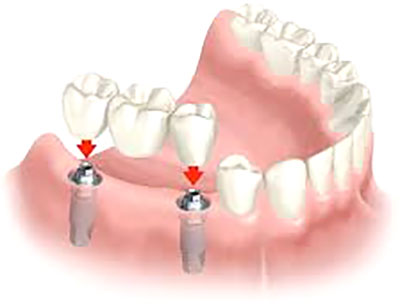 Mini Implants
The use of Mini Implants is a very affordable way of making dentures very secure. Small attachments are placed in the dentures which snap onto the implants and keep the dentures from moving. Sometimes the existing denture can be used for this option.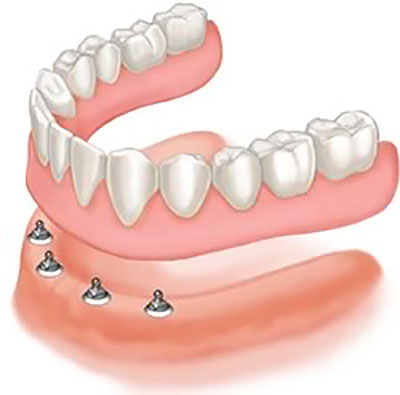 Full Mouth Restoration
Another option for replacing your teeth would be placing 4-6 implants into the jawbone and attaching a prosthesis. This prosthesis is screwed into the implants and can only be removed by the dentist. It is as close to having your real teeth back again.