CEREC Same Day Crowns
Imagine the magical transformation from a flawed, even partial tooth, to a durable, attractive one in a single visit to our office. That's another way we can simplify your life by dentistry technology known as CEREC — Chairside Economical Restoration of Esthetic Ceramics.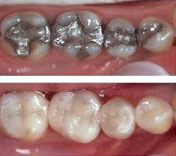 It is all done with CEREC, a computer-aided machine that enables us to make ceramic crowns so that you may leave our office after one visit with a permanent crown. The CEREC crown, or protective cap, is a solid block of ceramic that complements, even enhances, the rest of your teeth. You won't be able to resist flashing a wide smile every chance you get.
This technology allows us to essentially take a picture of the targeted tooth, along with adjoining and nearby teeth. Then comes the designing of your new crown using innovative, cutting-edge software. Ceramic is a material most conducive to a design that matches your other teeth, whether existing teeth or partial dentures. The process also allows us also match the color and shape of your other teeth. Ceramic crowns are generally regarded as ideal for those front teeth that are clearly displayed when you smile or open your mouth, because they so closely resemble real teeth.
CEREC same day crowns mean you won't have to sit for messy impressions, temporary crowns and, of course, additional visits. Everything is done right on our premises with no need to send anything away to an outside dental lab. It also means that we can save as much of the natural tooth as possible, with a crown made of one of the most durable and wear-resistant materials used in dentistry.
Here are some of the other pluses offered when you choose Leone & Wenning Cosmetic & General Dentistry for you CEREC crown:
No need for temporary restorations because we do it all right here in just one visit;
Because we utilize high-quality ceramic products, it means that the beneficiary of one of our crowns should not have to return in the near future, if ever, for repair or replacement;
The CEREC technology guarantees minimal oral invasiveness to from start to finish in this same-day process;
You'll experience less discomfort and fewer injections when you choose CEREC same day crowns, and
We rigorously adhere to biocompatible solutions with the materials and techniques we use, eliminating toxins, allergies and injuries that might complicate overall dental health.
Video